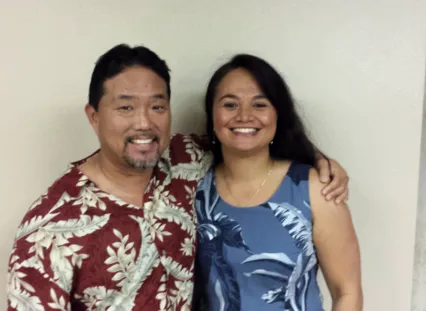 Dr. Tod Ichishita, DC- Owner, Clinic Director
Dr Tod Ichishita is committed to the health and well being of his patients. He was born and raised in Kona and graduated from Konawaena High School in Kealakekua. While in high school, he injured his back while playing football. He was advised by his medical doctor to quit playing football because of the severity of the injury. He then saw a local Chiropractor named Dr. Alfred Valenzuela. Miraculously, Dr. Valenzuela helped him and he was able to continue playing football without pain. This inspired him to help others and he wanted to become a Chiropractor. After graduating from Konawaena High school with honors, Dr. Ichishita then attended the University of Hawaii at Manoa where he graduated in Athletic Training/ Sports Medicine in the top 2% of his class. After graduation from UH he attended the prestigious Palmer Chiropractic College West in San Jose California. In 1999, Dr Ichishita graduated from Palmer West with both academic and clinical honors. He then returned to his hometown; Kailua Kona to open his practice. In 2006 and 2007, Dr Tod was awarded by the Consumers Research Council Of America as one of America's Best Chiropractors. In 2010, He was selected by West Hawaii Today's readers as the Best Chiropractor in the West. In 2014, 2015, and 2016 he was awarded the Lei Niho Palaoa Award as the Best Chiropractor on the Big Island of Hawaii. In his spare time, Dr Tod enjoys spending time with his family. He also in very involved in the community and in the past, he has volunteered to coach soccer for the Kona Crush Soccer Academy and was the Head Coach of the Konawaena High School Boys Soccer team from 2017 to 2021. In 2022 he was awarded the "Best Chiropractor of 2022" by the Kailua Kona award program.In 2023 he was honored to receive the "Best Chiropractor of 2023" award again for the second year in a row.
Carolyn Carter- Office Manager, Certified Chiropractic Assistant Carolyn Carter is also from Kona and graduated from Konawaena High School in Kealakekua, Hawaii. She has been working with Dr Tod since 1999 and has been a Chiropractic Assistant for over 35 years. Her experience and knowledge of the Chiropractic business makes her an invaluable staff member. In her spare time she enjoys bowling, surfing, exercise, and canoe paddling. Carolyn manages the office's day to day operations and is a key to it's success.